The Finest Buses & Limos Around!
When it comes to booking a vehicle with Party Bus Raleigh, you have many options. Your choice on which vehicle to book will depend on a number of factors. For instance, if you need a vehicle for a wedding, a party bus might be more in order because you will have much more room to move around and you and your party will be able to actually stand as opposed to a standard limousine. Also, there are a range of sizes when it comes to how many people each vehicle will accommodate. You will want to discuss with one of our knowledgeable customer service agents how many you will have in your group and what kind of function you are having. We want you to know that we are meticulous about the cleaning of our party buses and all of our vehicles. We make sure that everything is well detailed for you and that all of our vehicles are in great running condition. The amenities we have installed on our party buses will absolutely astound you. We assure you that being in a Raleigh Party Bus is going to be an absolute blast. We have listed our vehicles below with some information on each one. As you are perusing, make a list of any questions or concerns you might have and then contact us when you know your date and time of service. Our agents know everything there is to know about all of our vehicles so you will be in good hands. We are available 24/7 and we look forward to answering any questions you might have about our vehicles. Then, when you are ready, we will walk you through the booking process when you are ready.
18 Passenger Party Bus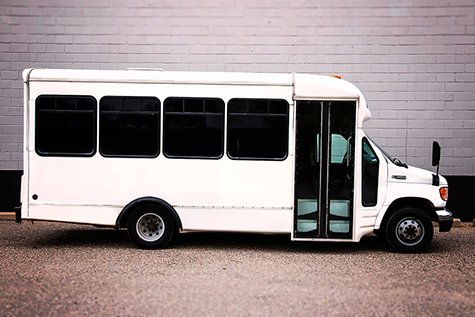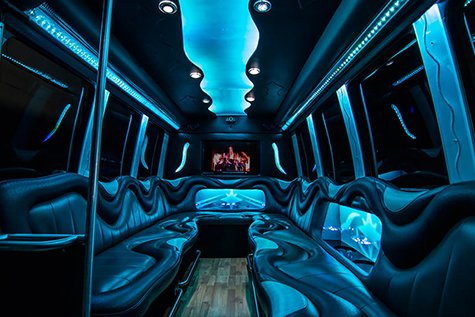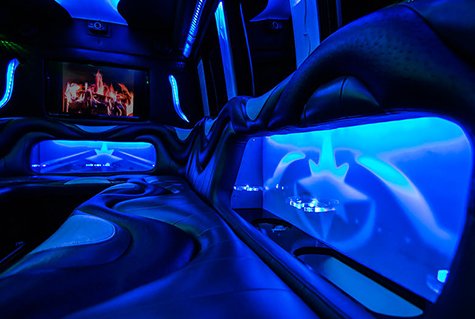 Our 18 passenger party bus is an splendid option for any function or event that you may be participating in. You will show up in style when you choose this vehicle! Like all of our vehicles, it is equipped with hardwood flooring, glistening granite counter tops, leather interior, LED lighting, privacy divider, and awesome 1,000+ sound system—you will be sure to arrive in style with this 18 passenger party bus.